Are you participating in the 29faces challenge? I did the February challenge last year and created a sketch that would eventually become the Queen Bee digi stamp (first row, second column) available here. It was great practice and really helped me get focused on creating so if you aren't participating, I encourage you to give it a go. :artsy:
Here are my first 5 faces. I sketched these up last night while 'watching' The Tudors with my husband. I tend to listen to shows more than actually watch them. It is hard to not have something to do with my hands at all times ha!
If you have never heard of the 29faces challenge you can check it out here: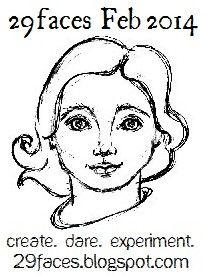 Lots of people of all skill levels participate so don't be bashful! 🙂
Happy Arting My Friend!